The Cost of Commuting
Posted by Mike Hall on Friday, July 7, 2017 at 1:27 PM
By Mike Hall / July 7, 2017
Comment
We'll cross that bridge when we come to it
by Mike Hall, Owner/Broker/Agent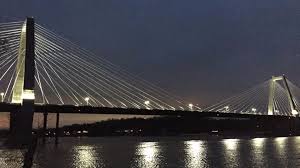 If you commute to and from Southern Indiana you may have been keeping up with the toll situation. Fortunately, you can now save a little money with a little planning.Transponders are available for those who frequent the three tolled Ohio River bridges.
The prepaid transponders are available at Speedway stores in Kentucky and Indiana, and they come as a kit. The kit includes a transponder, a reload card and a customer agreement. The transponder is good for the Lincoln, Kennedy and Lewis and Clark bridges in Louisville. More than 350 Speedway locations currently have the kits in stock. This includes about two dozen Speedways in the Louisville area.
The transponders will save the average passenger vehicle about $2 per crossing depending on if the license plate is registered or not. However, the toll is still approximately $4 to cross twice in a day, which can add up quickly.
If you are thinking about a move to the Kentucky side of the bridge where you work to avoid this toll, a Red Edge agent would be happy to help. You can put the money you would save on the toll toward buying your dream home. We can also help you with selling if you are ready for a move. Give us a call or contact us via email, and we will be happy to help you with your buying and selling needs!
Source: The Courier-Journal