Is Bigger Always Better?
Posted by Mike Hall on Tuesday, September 26, 2023 at 2:14:52 PM
By Mike Hall / September 26, 2023
Comment
For those who think so, Louisville ranks top 5 for largest yards.
by MIKE HALL, Owner/Agent/Broker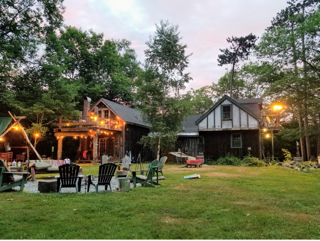 Do you watch those HGTV shows where they makeover someone's backyard into a beautiful oasis? Do you want a big yard for entertaining or kids to play or space for a garden? Well, living in Louisville gives you more of an opportunity to have those wishes come true.
According to StorageCafe, Louisville is one of the top 3 cities with large lot sizes among the 50 largest cities in the U.S.; Nashville, Tenn., topping the list.[1] With a median lot size over 10,000 sq. ft., Louisville is among the top five cities with the largest yards.
So what are the pros and cons of having a large yard?
The pros:
You have the space to create an entertainment area, whether that's creating an outdoor kitchen and living space or setting up safe place for kids to play. A large backyard can provide your dog ample running and playing room, or you can nurture your green thumb skills with a garden. The great outdoors also provides some health benefits, such as stress reduction. Having a backyard also adds value to your home, especially when it's a functional space and landscaped.
The cons:
You will need to invest in lawn care equipment or pay a professional. Most areas have ordinances regarding lawn care, so it's not something that can be put off.
You'll also be sharing your space with nature, which could mean critters you aren't fond of and may be considered a nuisance. You'll also need to prepare your yard for various seasons, such as raking leaves in fall or bringing in plants during winter, and having storage for your yard equipment. Cost can be a deterrent, as well. Landscaping and creating outdoor living spaces can mean spending hundreds or even thousands of dollars.
Whether you decide you want a big yard or not, a Red Edge agent will be able to help you find what you're looking for.